31 Oct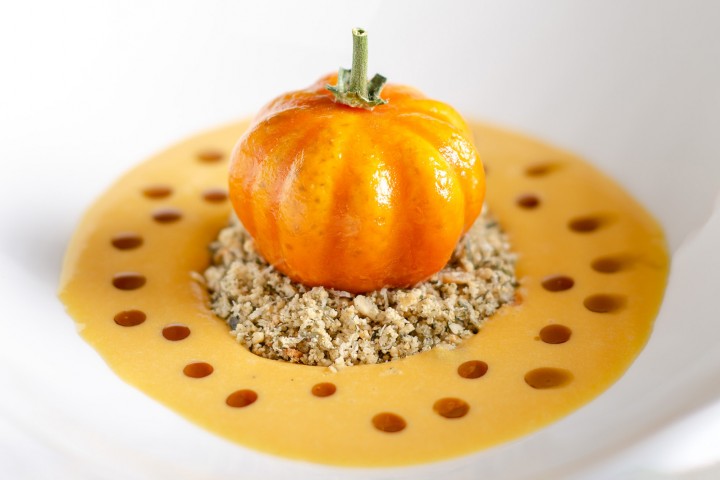 The combination of the warm soup and the light ice cream in this seasonal dish makes a great contrast. The pumpkin seed ice cream is frozen into our Pomodoro Mould to get the mini pumpkin shape, then dipped into carrot juice jelly for a very realistic and great tasting coating. The pumpkin seed crumble adds amazing texture to finish the dish.
Pumpkin seed Ice Cream
565g Milk
200g Whipping Cream
150g MSK Ultralin
8g Salt
3g MSK Flavour Enhancer
5g Silk Gel
150g Pumpkin Seed Paste
Pour all the ingredients into a jug and blend with a stick blender.
Warm slightly if the powders are not dissolving.
Freeze into two Pacojet canisters.
Pumpkin Seed and Parmesan crumble
50g Pumpkin Seeds
10g Butter
50g Abzorbit
20g parmesan (microplaned)
Salt and pepper
Fry the pumpkin seeds in the butter until they start to split.
Pour into a food blender, add the Abzorbit and blend until you have a crumble texture.
Add the parmesan cheese and adjust the seasoning.
Carrot Jelly
300g Carrot Juice
6g MSK UltraGel 2
3g Sugar
2g Salt
Warm the carrot juice.
Blend the salt, sugar and UltraGel 2.
Add the dry mix to the carrot juice and bring to the boil, stirring well.
Boil for 1.5 minutes.
Pour into a deep container ready for dipping.