06 Feb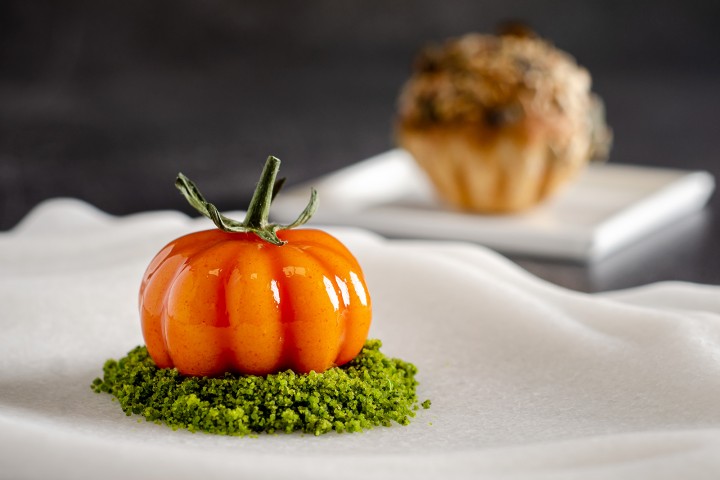 This great-looking goat's cheese mousse is set with MSK UltraGel 5 and dipped in Tomato Jelly which was set with MSK UltraGel 2. Mousses set with UltraGel are completely freeze-thaw stable, making it easy to coat them with the jelly. We've served the mousse on a bed of pesto powder made using our UltraSec. Turning pesto to powder gives chefs a completely new way of using this classic ingredient.
The mousses was set in the Silikomart Pomodoro mould, and the dish is served on the 100% 'Canvas' Marble Plate.
Pesto Powder
40g Pesto
60g MSK UltraSec Powder
10g Parmesan (fresh, microplaned)

10g Pine Nuts (toasted and chopped)
Fresh Basil (chopped)
Put the pesto and the UltraSec into a blender and blend on low speed.
When the mix resembles a fine powder pour it out into a bowl.
You can leave the powder like this if you want fine texture or add the rest of the ingredients to add a bit more texture.
Goats Cheese Mousse
300g Goats Cheese Log
200g Milk
200g Cream
7g MSK UltraGel 5
Put the goats cheese and the cream into a Thermomix and set to 70°C.

Boil the milk and add the Ultragel 5 (use a little maltodextrin or MSK Ultralin to help it disperse).
Bring the mix back to the boil for one to two minutes.
Pour into the goats cheese and cream mix.
Adjust the seasoning and pour into moulds and freeze until solid.
Demould and push a cocktail stick into the middle of each one.
Tomato Jelly
300g Tomato Juice (we use Big Tom)
10g MSK Spray Dried Tomato Powder
6g MSK UltraGel 2
Put the tomato juice in a pan and bring up to 80°C

Mix the tomato powder and the UltraGel 2.
Whisk this mix into the tomato juice and bring up to the boil.
Boil for 2 minutes to activate the gelling agent.
Pour the mix into a deep glass.
Holding by the stick, dip each goats cheese mouse into the jelly and hold for a couple of seconds for the jelly to set.
Remove from the jelly and put onto a tray.
Remove the cocktail sticks and leave the mousse to defrost.