16 Jun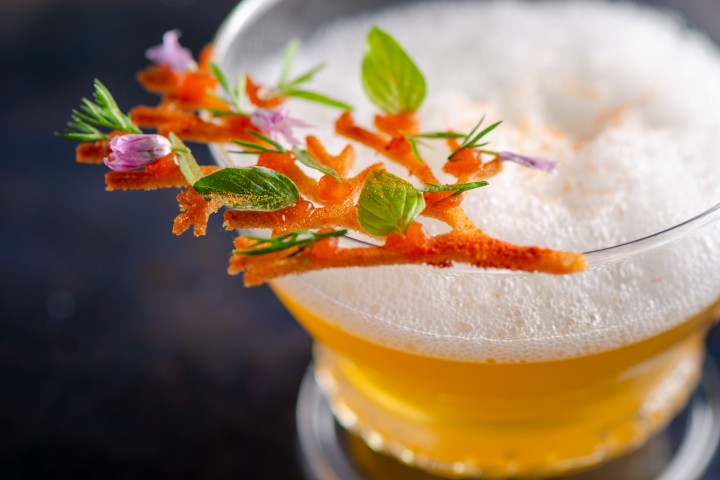 There are some great English tomatoes coming into season right now and so we thought we'd show you a few techniques which use our fantastic spray dried tomato powder for garnishes and sauces you can use with your tomato dishes. This powder is 100% tomato juice, spray dried at cold temperatures to remove the moisture, leaving a free-flowing richly-flavoured and coloured powder which is perfect for using as an ingredient or a decoration. Here we use it for both!
Tomato Tuile
4 Egg Whites
160g MSK Ultralin
125g Melted Butter
100g Plain Flour
10g MSK Spray Dried Tomato Powder
2.5g MSK Flavour Enhancer
3g Salt
Mix the egg white and the Ultralin together, then add the melted butter and whisk until smooth.
Add the rest of the dry ingredients and mix well, then chill the mixture.
Once chilled, spread onto the tuile mould and bake at 180*C until light brown in colour.
In this recipe, the Ultralin is taking on the role of the sugar in a standard tuile mix, but without the sweetness. You can use this technique to make a wide range of savoury alternatives to sweet dishes and applications. The flavour enhancer is another great little ingredient. It's low-sodium and MSG-free, giving a lovely umami flavour to boost the tomato.
Tomato Vinegar Fluid Gel
The tomato fluid gel is made with tomato spray dried powder, white wine vinegar and MSK UltraTex. It's a superb little shortcut to a great-tasting tomato gel for you dishes.

100g White Wine Vinegar
50g Water
7g Tomato Powder
10g Sugar
12g Ultratex
Warm the vinegar and add the tomato powder and sugar.
Add the Ultratex and to the water and mix well.
Gradually pour the vinegar mix into the water, mixing well.
Mix until you have smooth fluid gel.
Adjust the amount of Ultratex to change the consistency.
For the dish shown, the tuile is decorated with edible leaves and flowers and is presented on a tomato consomme with a white tomato foam, and dusted with more spray dried tomato powder.