07 Mar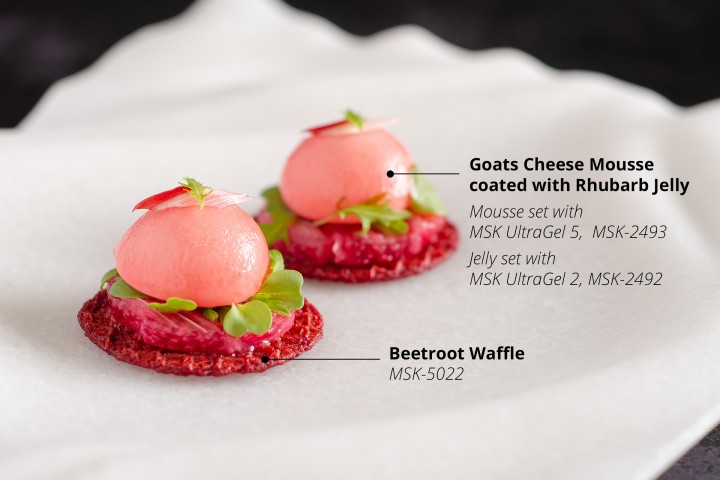 This great little canapé pairs a slightly sweetened rhubarb jelly with a goat's cheese mousse, served on a beetroot waffle, which makes a great base and is so easy to use. The rhubarb jelly is set with UltraGel 2 and the mousse with UltraGel 5 making it a vegetarian dish which is really easy to make.
The canapés are served on the Canvas marble plate from 100% Chef.
Goats Cheese Mousse
300g Goats Cheese Log
200g Milk
200g Cream
7g MSK UltraGel 5
Put the goats cheese and the cream into the Thermomix and set to 70°C.
Boil the milk and add the Ultragel 5 (use a little maltodextrin / ultralin to help it to disperse).
Bring the mix back to the boil one to two minutes.
Pour into the goats cheese and cream mix.
Adjust the seasoning and pour into moulds.
Beetroot Jelly
200g Rhubarb Juice (sweetened)
20g Sugar
4g MSK UltraGel 2 (2% ratio)
Bring the rhubarb juice to the boil.
Mix the UltraGel 2 and the sugar.
Add to the juice and bring back to the boil for one to two minutes.
Check the taste and adjust accordingly.