15 May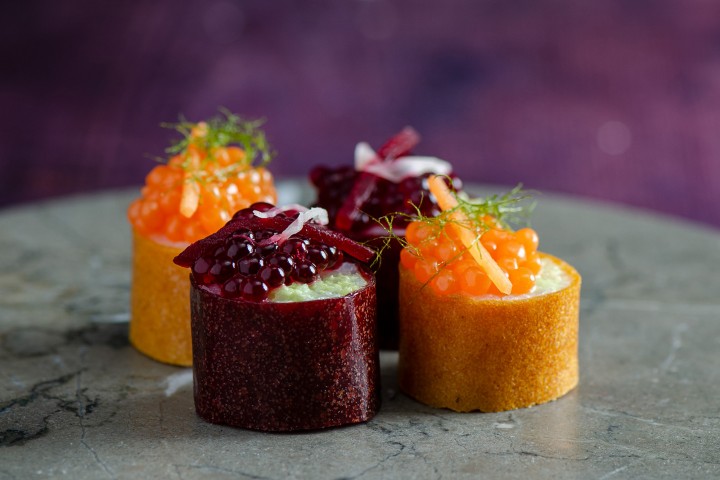 Rupert's made these fabulous little vegan sushi rolls, wrapped in our popular vegetable sheets and topped with some intensely-flavoured caviar pearls.
The caviar pearls are very simple to make if you follow the recipe below, and take no time at all to prepare if you use the fabulous Caviar Box from 100% Chef.

If you're not familiar with caviar pearls, they're made using a technique called spherification, which involves making a flavoured liquid on an alginate base and dripping it into a calcium bath. The calcium reacts with the alginate to form a gel, making these little pearls. We cover this technique in detail on our demonstration days, including how to vary the basic recipe for other liquids and flavours. Please note also that this recipe is designed to work specifically with MSK's sodium alginate, which is a premium grade product we have sourced specifically for its effectiveness in spherification recipes. Not all alginates are the same!
Beetroot and Horseradish caviar pearls - base
300g Beetroot Juice
6 drops Horseradish Flavour Drop
15g MSK Ultralin
3g MSK Sodium Alginate
Blend the sodium alginate and the Ultralin together.
Gradually pour the mix into the beetroot juice whilst whisking. The Ultralin is helping to disperse the alginate in the mix and avoid clumping. You could use sugar to do the same thing, but it will add sweetness which we don't want here.
Leave to hydrate for 10 minutes.
Calcium bath
1 litre Water
10g Calcium Chloride 1%
Mix the ingredients together and make sure calcium is fully dissolved.
Making the beetroot caviar pearls
Drop the beetroot mix into the calcium bath using the caviar box. If you don't have a caviar box you can drip the mix from a squeezy bottle, but this is going to take you much longer!
Rinse the caviar with fresh water and serve.
The caviar pearls can be kept for a few days in the fridge if required, in a little bit of beetroot juice.