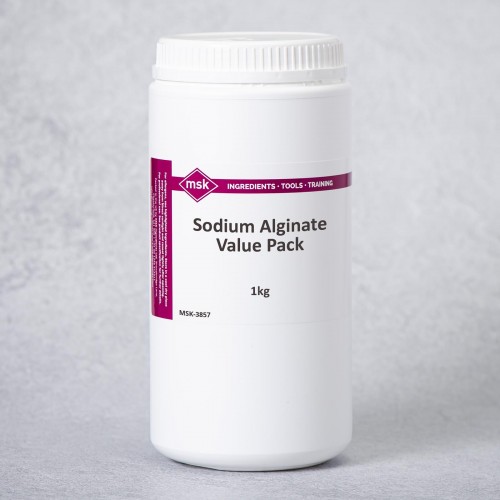 Sodium Alginate Value Pack, 1kg
An extract of seaweed most commonly used in conjunction with calcium to make coloured and flavourful translucent spheres from just about any liquid.
Sodium Alginate is a gelling agent that dilutes when cold with strong agitation. It can be used to create soft or firm gels, ambient, heat-resistant gels
Sodium alginate can also be used to produce foams and as a thickener.
Applications: Heat stable strong gels. Dessert gels. Structured Foods.
Rate of hydration: Moderate
Comments: Alginates react with calcium to form gels and is therefore used in spherification and reverse spherification.
Gel Strength: Strong gels only in the presence of calcium.
Colour: Yellowish-brown
Solubility: Cold
Ph Solubility: 4.5 - 8
Doseage Rates: 0.5% - 1.5%
Availability:

In Stock

(more info)
Product Code:

MSK-3857