28 Apr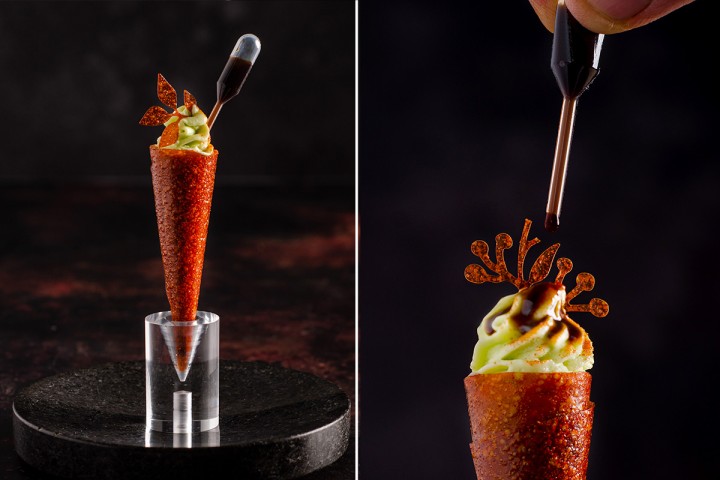 This recipe showcases the Ocoo's potential for making unique, intense, natural essences from fruits or vegetables. In this case it's a caramelised tomato essence, made by cooking in the Ocoo for 5 hours on the essence setting. We've paired it with an avocado savoury ice cream, made with MSK UltraLin, presented in a red pepper cone with a matching tuile, both made from our red pepper vegetable sheets. The cone is held in a reversible cone/skewer stand by 100% Chef. We've also used our Stay Dried Tomato Powder as a decorative dusting for the ice cream.
Avocado Savoury Ice Cream
565g Milk
200g Whipping Cream
150g MSK Ultralin
8g Salt
3g Flavour Enhancer
5g Silk Gel
Place all the ingredients into a jug and stick blend until everything is dissolved in the liquid.
Pour the mixture into a pacojet beaker but only fill 2 thirds of the way to the line.
Freeze overnight.
Fill the last third of the beaker with avocado puree and pacotise.
You can use this method of adding purees to the base mix to make a wide variety of savoury ice creams.
OCOO Tomato Essence
Roughly chop 2 kg of ripe tomatoes and season very lightly with salt and sugar. You can add Thyme, garlic, basil stalks for extra flavour if you want.
Place in the inner pot of the Ocoo.
Put on the ceramic lid, fill the tray with water and put on the external lid
Set to cook on 'essence' for 5 hours.
Reduce the time If you want less caramelisation.
When cooking has finished reduce the liquid to the desired consistency.