06 Jan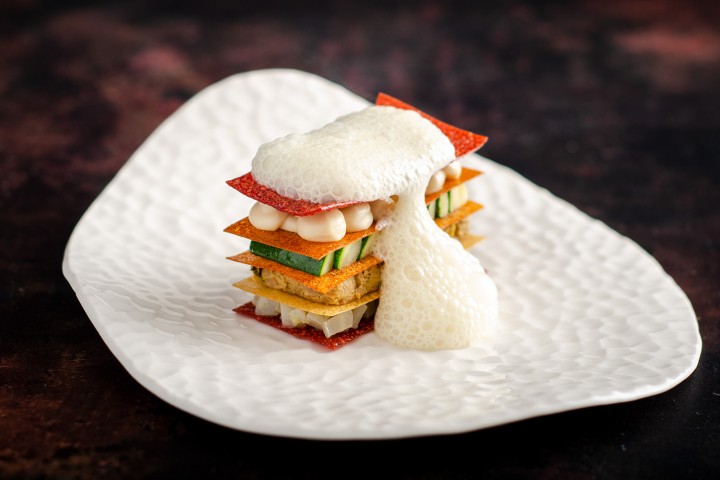 This dish is based around layering different textures of vegetables between crispy fried vegetable sheets. We've used MSK Strukture with an aubergine puree to add strength to the bottom layers of the lasagne where otherwise the dish might sag or collapse.
Base mix for the vegetable layers
300g Vegetable Puree (we use aubergine puree for this dish)
100g Water
80g MSK Strukture
(Note: Strukture needs water to enable it to work. The puree needs to be quite wet before you add the Strukture).
Mix the water and the puree.
Put the mix into the freezer until it just starts to freeze.
Add the MSK Strukture and mix well, making sure there are no lumps.
Leave in the fridge for 1 hour.
By adding MSK Strukture to the aubergine puree it makes it hold firm when heated to above 80°C. This means you have a very different, stronger texture and can use it build up a dish, structurally.
Crispy fried vegetable sheets
The crisp layers are made by deep frying vegetable sheets:
Beetroot vegetable sheets, MSK-5123
Carrot vegetable sheets, MSK-5120
Spinach vegetable sheets, MSK-5121
Potato vegetable sheets, MSK-5122
Red Pepper vegetable sheets, MSK-5124
Cut the sheets into the desired shape and deep fry for 20 to 30 seconds at 180°C until crisp.
Cheese Sauce
We've paired this dish with a foamed cheese sauce made simply by adding vegan cheese to soy milk. Warm the soy milk and stick blend in the cheese. The emulsifiers already in the cheese will thicken up and foam the milk. If it is a bit too thin you can add some UltraTex to get the correct consistency.