13 Jul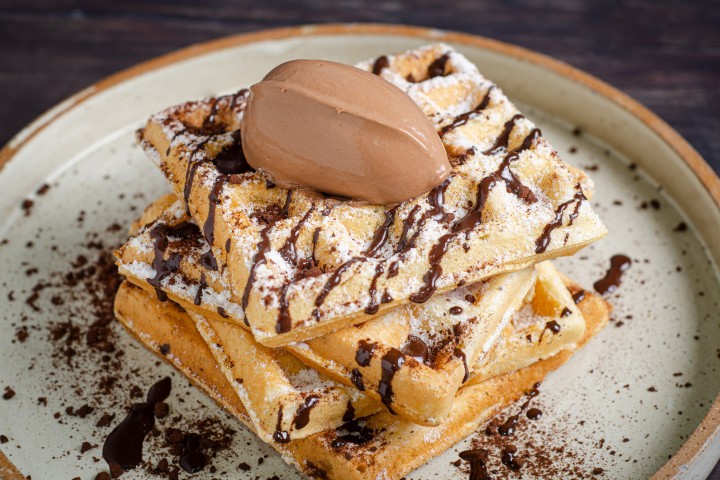 Today we have some vegan ice cream inspiration for you. This delicious chocolate ice cream is made with single origin Luker dark chocolate. It's also made with silk gel for a silky smooth feel. The free-from waffles are made using MSK Eggless.
Basic Plant-Based Waffle Mix
(Can also be used for Pancakes and Yorkshire Puddings)
200g Plain Flour (can be gluten free if needed)
25g MSK Crispit
25g Water (A)
50g Vegetable Oil
4g MSK Silk Gel
6g MSK Eggless
4g Salt
1tsp Baking Powder
200g Water (B)
7.5g MSK UltraWhip
150g Plant-based Milk
Mix the water (B), the Eggless and the UltraWhip together and whisk until it looks like whipped egg whites.
Mix all the other ingredients together to a smooth paste.
Fold the two mixes together gently then cook in a waffle iron as normal.
For Yorkshire Puddings, grease a tin and spoon the mixture to just over the top of each hole, then bake at 200 degrees C for 20 minutes.
Chocolate Ice Cream (Contains Soy)
150g Macondo 60% Dark Chocolate
150g Soy Single
200g Soy Milk
50g Sugar
20g Cocoa Mass
6g Silk Gel
Warm the milk, cream and the chocolate until it has melted.
Add the rest of the ingredients and emulsify with a stick blender. Freeze in a pacojet container and pacotise as needed.