12 Jun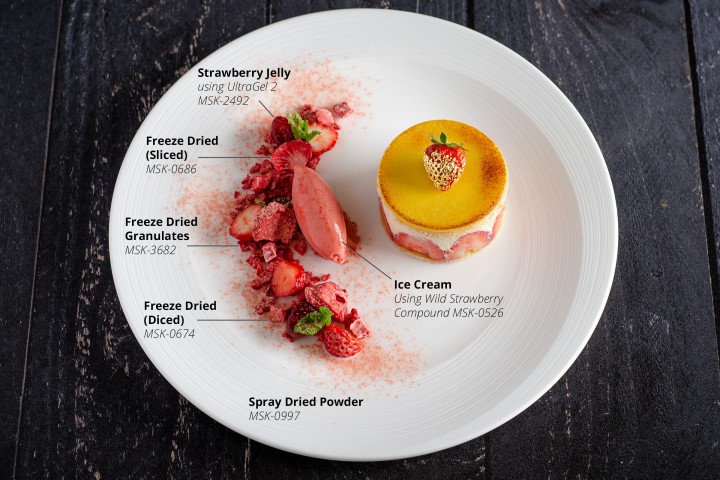 Posted By
0 Comment(s)
895 View(s)
Gelling
This strawberry fraisier dish is made with fresh Strawberries from our friends at Wellocks and decorated with a range of strawberry textures from our product range.
Our freeze dried products are 100% pure fruit, picked in season and then frozen under vacuum to remove the moisture. The original shape, texture, colour and - most importantly - flavour is perfectly preserved throughout the process, as is the vitamin and nutritional content. They can be used in all aspects of baking or run through ice cream, parfaits and sorbets, and in powdered form can be used for dusting and lining, giving a very natural look. Here we use the diced and sliced strawberries as a garnish to add variety and texture to the plate. There are many grades of fruit available on the European market, but we only choose the best.
Our spray dried powders are slightly different from the freeze dried powders. They are made from the pure fruit juice which is spray-dried at low temperatures to ensure the intense flavour is maintained. Because they are made from the juice, they offer a more intense flavour, with a uniform colour, and are perfect for dusting, for adding flavour to mousses, parfaits and sauces and for lining soufflé moulds.
Then we have our fruit granulates, which are made from a sweetened fruit puree which is freeze-dried and then crumbled for a garnish which has the strongest flavour and sharpest bite, making the perfect dessert garnish.
Our flavouring compounds are a fantastic time-saver for so many dishes but are designed originally for use in flavouring ice cream, where they are truly unbeatable. They are generally made from the pure fruit, sweetened and concentrated, with a vibrant colour and rich flavour. They can be used in a wide range of patisserie to give as well.
Lastly we've made strawberry jellies from a strawberry reduction thickened with MSK UltraGel 2.