15 Oct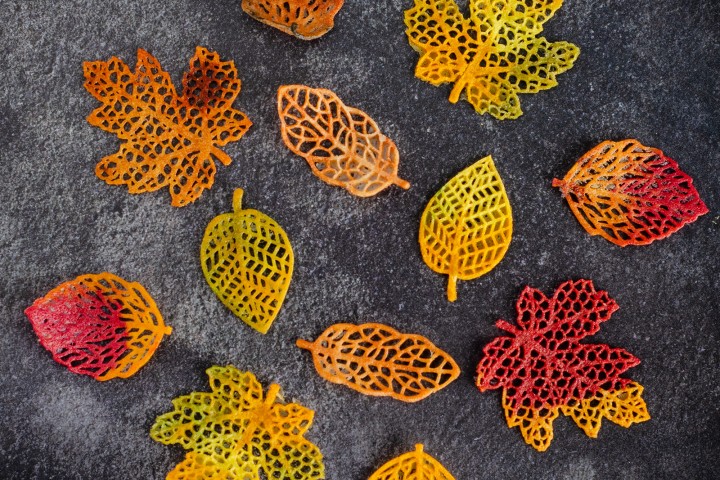 Using this tuile mix in one of the silicone tuile moulds you can easily make crisp tuiles that have great colour and are full of flavour. The Ultralin works as a sugar substitute, allowing for a savoury base which you can flavour using any of our spray dried or intense flavour vegetable powders. A pinch of flavour enhancer adds a rich, natural umami flavour to the mix as well without increasing the salt levels and without using MSG.

By blending different coloured mixes in the moulds you can create unique and natural-looking autumn leaf tuiles.
Savoury Tuile Mix
8 Egg Whites

320g MSK Ultralin
250g Melted Butter
200g Flour
10g Spray Dried Vegetable Powder (eg beetroot, tomato, etc - see below for suggestions)
5g Flavour Enhancer
Salt
Mix the egg whites and the Ultralin.

Pour in the melted butter and mix well.
Add the dry ingredients.
Chill before use.
We used these 100% natural powders for our tuiles:
Beetroot Spray Dried Powder (MSK-8158)
Carrot Spray Dried Powder (MSK-1000)
Tomato Spray Dried Powder (MSK-0980)
Onion Intense Flavour Powder MSK-2561
Roast garlic Intense Flavour Powder MSK-2560