14 Nov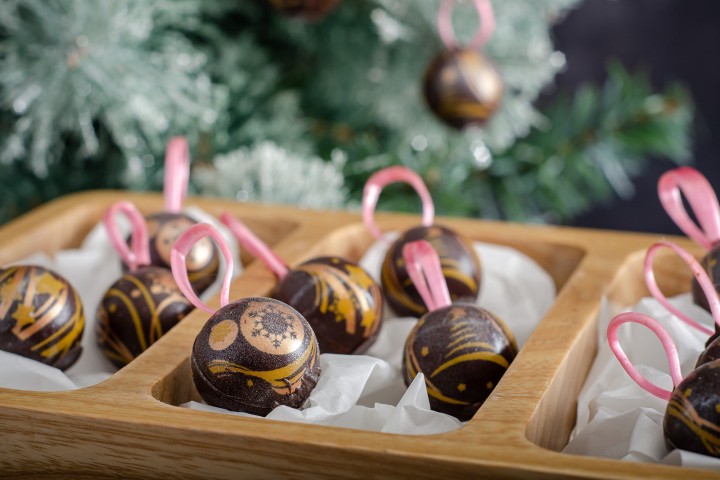 Our mulled wine flavour drops are the essence of Christmas! We've used them here in both a ganache and a cherry jelly to make these wonderful little Christmas chocolate baubles.
Mulled wine Ganache
200g Cream
250g Macondo 60% Dark Chocolate
45g Invert Sugar Paste
50g Butter (diced, room temperature)
20 drops MSK Mulled Wine Flavour Drop
Place the cream into a pan and bring to the boil.

Pour the hot cream mixture over the melted chocolate and stir slowly until all the liquid has been incorporated and the mixture has an elastic and shiny texture .
Add the invert sugar and the Mulled wine flavour drop.
Allow the mixture to cool to 35℃ and add the butter.
Place the ganache into a piping bag.
Mulled Wine Scented Cherry Jelly
380g Morello Cherry Puree
100g Water
20 g Sugar
4 leaves Bronze Leaf Gelatine
15 drops Mulled Wine Flavour Drop
Soak the gelatine leaves in cold water.

Place the puree, water and sugar together in a pan and bring to the boil.
Remove from the heat.
Remove the gelatine leaves from the water and squeeze out excess water.
Whisk the gelatine into the hot puree mixture.
Add the mulled wine flavour drop.
Pass the mixture into a bowl and place over an ice bath to cool.
Once the mixture is cooled and has started to thicken pour into a piping bag.
Construction
Half fill dark chocolate truffle spheres with the ganache and then fill each sphere with the jelly mixture and use a little tempered chocolate to seal the sphere.
Dust with the gold metallic powder and finish with an Isomalt ribbon.