23 May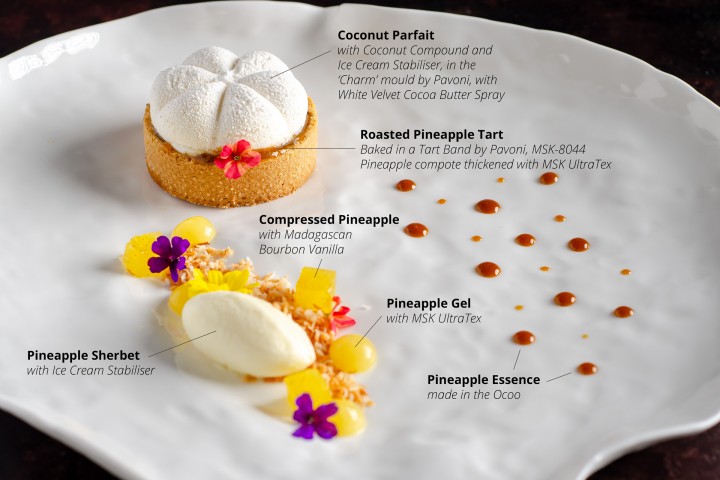 Vicky has made this fantastic Coconut Parfait dish accompanied with five different techniques using pineapple: a roasted pineapple compote, pineapple sherbet , compressed pineapple, pineapple gel and Ocoo pineapple essence.
The coconut parfait is made with MSK Coconut Compound and Ice Cream Stabiliser, set in the 'Charm' mould by Pavoni Italia, and sprayed with our White Velvet Effect Cocoa Butter Spray. It's sitting on a pineapple tart with a compote thickened with MSK UltraTex, and the case was baked using a perforated tart band for even baking.
The pineapple sherbet is served on roasted coconut with pineapple gel made with MSK UltraTex and compressed pineapple cubes flavoured with Madagascan Bourbon Vanilla.
The plate is decorated with an amazing pineapple essence, made in the Ocoo as follows:
Ocoo Pineapple Essence
Peel and roughly cut 1 or 2 pineapples.
Place in the steamer portion of the Ocoo's ceramic pot and cover with the lid.
Pour 600ml water into the base of the Ocoo and cover. Cook on the 'essence' setting for 5 hours.
When complete, carefully remove the ceramic pot and its lid and the pineapple essence will be in the lower portion of the pot. Strain this into a small pan and reduce to a syrup consistency.
You can adjust the sweetness and acidity of the essence to your taste with a little bit of sugar and/or malic acid.