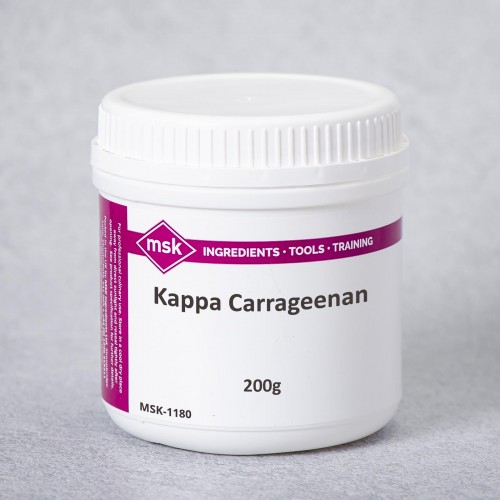 Kappa Carrageenan, 200g
The term carrageenan originated from a coastal town in Southern Ireland, called Carragheen. In that town, many years ago, housewives simply boiled the seaweeds - Irish moss - to make jellies and puddings.
Today, carrageenan, a natural hydrocolloid, is a powder extracted from various species of red algae that are farmed and processed.
Applications: Firm ambient gels. Milk-based gels. Emulsions. Suspensions.
Rate of Hydration: Rapid
Comments: Bleeding of liquid can be controlled with the addition of Locust Bean Gum (LBG). Slightly opaque gel becomes clear with the addition of sugar. Gel is not heat stable. Forms gels most strongly with potassium salts, followed by calcium salts. (The reverse reactivities to Iota Carrageenan).
Gel Strength: Firm, elastic gels.
Colour: Cream powder
Solubility: Hot
Ph Solubility: 4.5 - 10.
Dosage Rates: 0.2% - 2.0%
Availability:

In Stock

(more info)
Product Code:

MSK-1180