03 Jan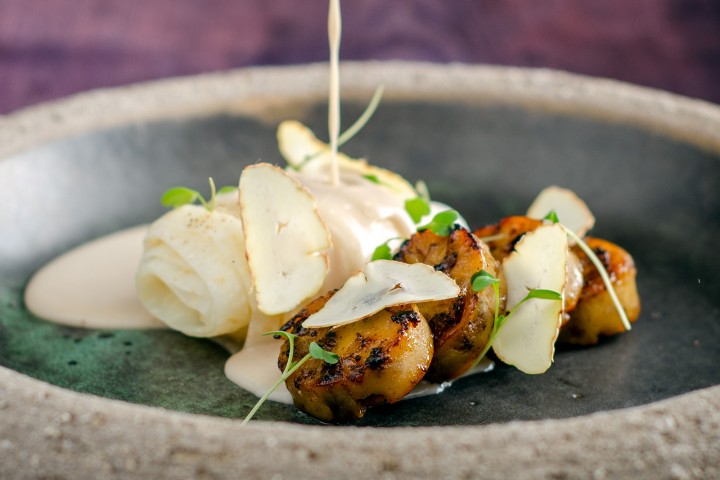 This completely plant based dish is really easy to make, full of flavour and great texture, and as a bonus it's fine to freeze. It uses our vegetable binding agent, MSK Strukture, to make sausage slices out of chestnuts and celeriac. We've paired this with celeriac tagliatelle and served with a chestnut velouté.
Base mix for the sausage
300g Vegetable Puree (we use celeriac puree in this dish)
100g Water
80g MSK Strukture
(Note: Strukture needs water to enable it to work. The puree needs to be quite wet before you add the Strukture).
Mix the water and the puree.
Put the mix into the freezer until it just starts to freeze.

Add the MSK Strukture and mix well, making sure there are no lumps.
Leave in the fridge for 1 hour.
The base mix can be used as a binding agent to hold other ingredients together to make different vegetable sausages or burgers.
For this dish we've added roasted chestnuts and celeriac. Dice and pan fry these until cooked and then glaze in a little maple syrup. Deglaze with some sherry vinegar.
Let them cool and then fold through the base mix.

Roll this mix into a sausage shape, wrap in cling film and tie each end.
Steam or poach until the centre reaches 80°C. Once at 80°C the Strukture will hold the shape and allow the sausage to be unwrapped, sliced and pan fried without sagging or falling apart.
The celeriac tagliatelle is made using a kitchen aid vegetable sheet cutter and we've served with a chestnut velouté