09 Nov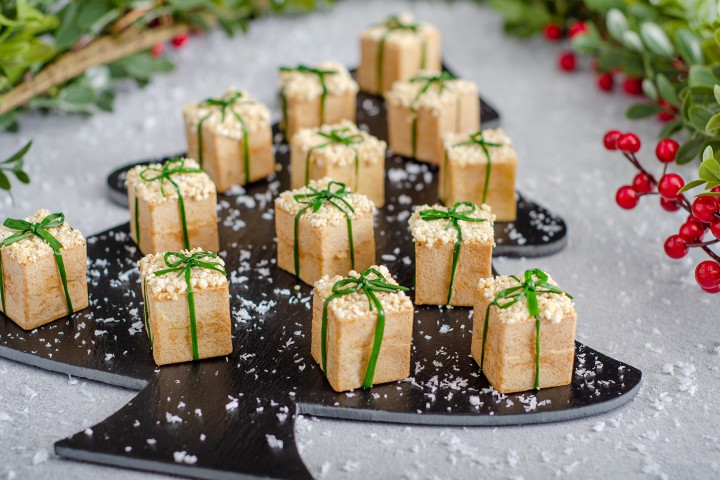 These delightful little choux bun Christmas parcels are cooked in the Pavoni Cookmatic with the optional Cube Choux Plate to give them the unique Christmas Present shape. Each choux is brushed with reduced honey and dipped in popping rind to give them a unique taste and texture. They're then filled with an aerated cheddar cheese and bacon sauce and wrapped with a bow made from strips of chive.
Cheese and Bacon Béchamel Sauce Filling
50g Butter
50g Flour
400g Milk
200g Cheddar Cheese
6 drops Smokey Bacon Flavour Drop
Make a béchamel sauce with the butter, flour and milk. then add the cheese and the bacon flavour drops.
Crumble Toppings
MSK Ground Popping Rinds
MSK Roast Onion Powder Intense Flavour Powder
MSK Flavour Enhancer (optional)
Salt and pepper to taste
Fry the ground popping rinds, then season with salt and pepper and dust them liberally with the roast onion powder. Add some flavour enhancer for an extra boost. Our flavour enhancer is great for bringing out the umami flavour in savoury dishes. It's a great low-sodium alternative to salt and doesn't contain any MSG.
Brush the top of each choux bun with some reduced honey and then dip in the ground popping rind mixture to coat.