07 Nov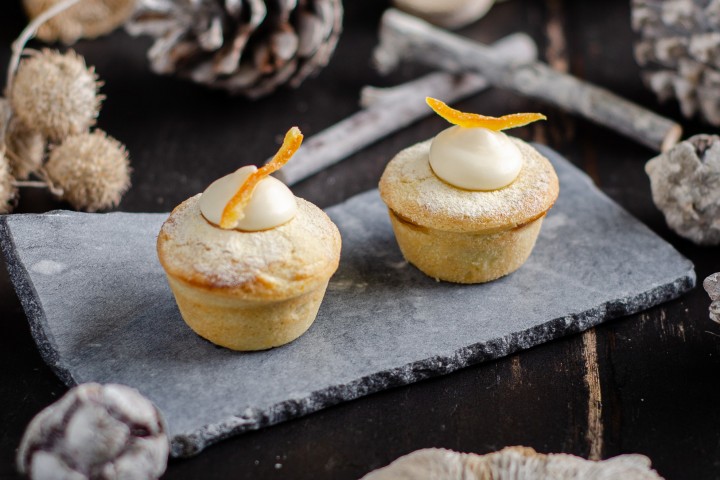 These mince pies are topped with a heat stable brandy and vanilla cream. The cream can be served warm or cold and it will hold its shape. It can also be piped onto warm mince pies and it won't run off.
The mince pies are made with an orange pastry, and we've mixed a little orange powder in with our icing sugar for an extra flavoursome dusting on top. Lastly, we've topped each mince pie with a slice of crystallised mandarin zest, made from exquisite Japanese Iyokan Mandarins. Delicious!
Brandy and Vanilla cream for mince pies
400g Milk

100g Double Cream
50g Sugar
50g MSK Ice Cream Stabiliser
12g Gellan Gum F
50ml Brandy
1 Vanilla Pod
Place all the ingredients except the brandy in a pan and bring to the boil.
Pour into a container and put in the fridge to set solid.
Blend in a food processer until smooth and creamy.
Add the brandy.
Spoon into a piping bag and refrigerate until ready to use.
Orange Pastry
225g Plain Flour
1 Orange Zest
150g Unsalted Butter
75g Caster Sugar
1 Egg
1 Egg Yolk
Cream the butter and the sugar.

Add the flour and orange zest.
Bring the pastry together with the egg and yolk.
Refrigerate until ready to use.