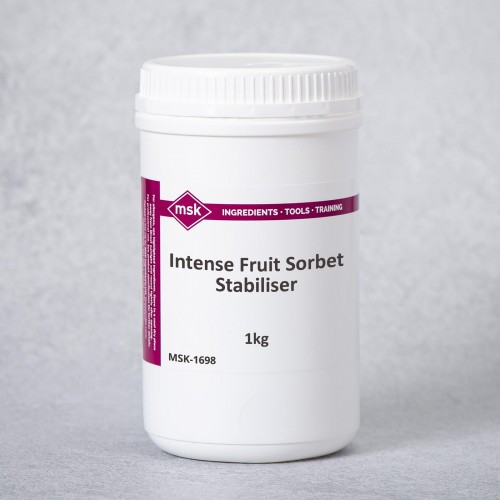 Intense Fruit Sorbet Stabiliser, 1kg
The main feature of the Intense Fruit Sorbet Stabiliser is stability over extended periods, constant soft-scooping and creaminess and its capacity to enhance the actual fruit flavour.
This sweet blend is excellent for enhancing natural fruit flavours and intense colours.
The stabiliser is added to an undiluted fruit purée and is sweetened by naturally occurring fruit sugars. Because the stabiliser is soluble in cold liquid, the recipe does not require heat which means that the quality of the fresh fruit will be maintained.
This stabiliser is particularly useful when dealing with delicately flavoured fruits or for diabetic sorbets.
Adding the intense fruit sorbet stabiliser to a mix does not require the mix to be altered. The intense fruit sorbet stabiliser contains a small amount of vegetable fat which emulsifies the sorbet, this helps to bind and distribute air throughout the sorbet.
The high melting point of the fat allows you to create a really full-bodied sorbet with a stable structure. The sorbet simulates the richness and creaminess of an ice cream.
Availability:

In Stock

(more info)
Product Code:

MSK-1698