09 Jan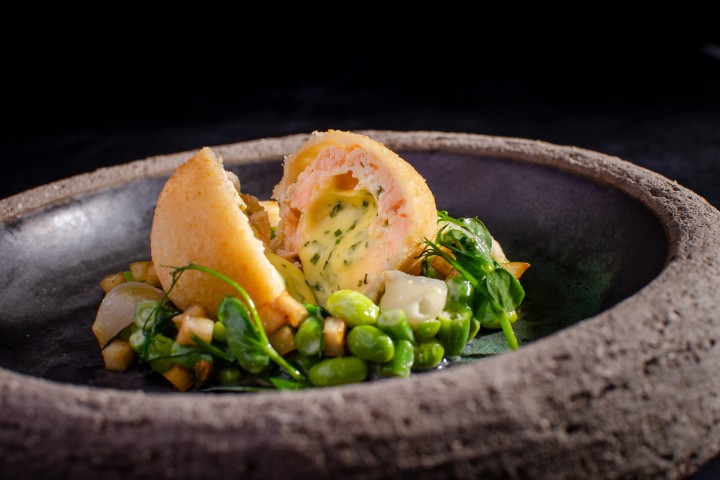 Our chefs have started 2022 by working hard in our development kitchen to create some new dishes to inspire chefs.
This dish is a salmon and herb scotch egg but the egg in the middle has been replaced with béarnaise sauce. By using our Gellan Gum F to make the béarnaise you can deep fry it without it splitting.
We served it up on the Barcino Plate Metallic Grey from 100% Chef.
Deep fried Hollandaise Sauce / Béarnaise Sauce
350g Milk
3g Gellan Gum F
0.5g Sugar Ester
1g MSK Flavour Enhancer
40g Reduction (white wine vinegar, shallots, peppercorns)
4g Salt
4 leaves Gelatine
300g Clarified Butter
1.2g Xanthum Gum
0.3g Cayenne Pepper
Tarragon, chives, chervil
Lemon juice
Disperse the sugar ester and gellan gum into the milk. Put into a Thermomix, set to 90c and turn on at medium speed.
When the temperature has been reached add the reduction, flavour enhancer and salt.
Leave the Thermomix on at 90c and add the gelatine.
Gradually add the warm clarified butter and then the xanthum gum.
Turn the heat off and leave the Thermomix turning until the mix has dropped below 45c.
At this point check the seasoning and add some lemon juice. Add the finely chopped herbs.
Pour the mix into the desired moulds and leave to set in the fridge.
The mix will set in the fridge so it can be handled. It can also be frozen if needed.