29 Jul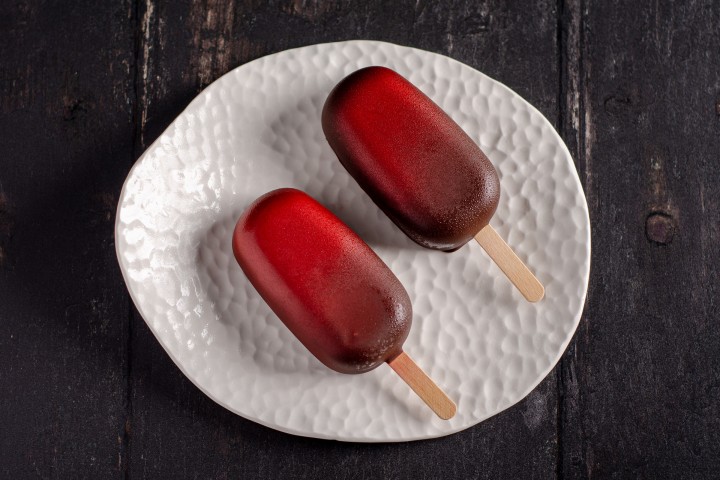 Well the weather's just been fearsomely hot, and whilst we're back to grey skies again now, hopefully there'll still be a few more sunny days left for the coming weeks.
With that in mind, we've been making mini ice creams with our fantastic mini ice cream moulds from Silikomart. These professional silicone moulds are safe for use in the blast freezer and dishwasher, and are very easy to use.
First up are these delicious pink grapefruit and dark chocolate ice creams made with our grapefruit flavouring compound and Macondo single origin Colombian dark chocolate by Casa Luker. Our flavouring compounds were designed originally for use in ice creams and are in most cases made from natural fruits, concentrated and sweetened to deliver the strong flavours needed to punch through at low temperatures.
Pink Grapefruit and Dark Chocolate Magnum-style Ice Lollies
200ml Milk
160g Egg Yolks
50g Sugar
30g MSK Ice Cream Stabiliser
400g Double Cream (whipped)
50g MSK Pink Grapefruit Compound
Pinch of Malic Acid
Boil the milk and pour over the yolks and sugar, then cook like an Anglaise until thick.
Add the flavouring compound and gently fold in the whipped cream.
Pipe into moulds and freeze.
Coating/Dip
400g Macondo 60% Dark Chocolate by Casa Luker
30g Vegetable Oil
50g Cocoa Butter (we use un-deodorised)
Melt all the ingredients together and dip the ice creams in all the way to coat them.
Decorate with our Deep Red Metallic Effect Spray.