03 Jul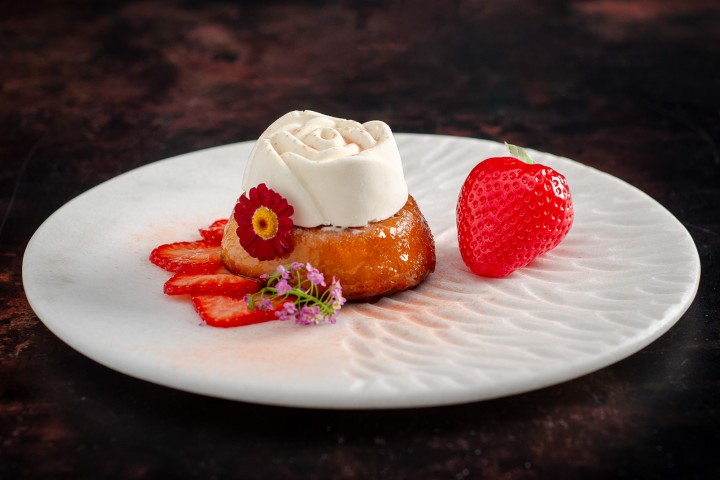 Vicky's whipped up this tasty gin baba to showcase the fabulous Formaflex moulds from Pavoni Italia. The baba itself is made with the Savarin Formaflex mould, and the white chocolate rose with the Rose Formaflex mould.
The sorbet-filled strawberry is separately made from blown sugar, using a mould Vicky made herself, and filled with strawberry sorbet made using our standard sorbet stabiliser recipe.
Baba Recipe
2.5 tsp Dried Yeast
50ml Warm Milk
400g Flour
7g Salt
40g Honey
260g Egg
120g Butter (melted and cooled)
Warm the milk to 25°C. Add the yeasr and honey and stir well until dissolved.
Combine the Flour and Salt
Add the yeast mixture to the flour and bring together with a dough hook at slow speed.
Add half the eggs and continue to mix at slow speed. Add the remaining eggs, increase the speed slightly and kneed for 3 minutes.
Add the melted butter and mix until fully incorporated.
Prove the dough for 30 minutes.
Pipe the dough into savarin moulds and prove until doubled in size.
Bake at 180°C for 15 to 20 minutes.
For the Gin Baba Syrup
500g Sugar
1 ltr Water
2 Vanilla Beans (split and scraped)
Zest of 2 Oranges
Zest of 2 Lemons
Juice of 2 Lemons
50g Elderflower Cordial
200g Gin
Place all the ingredients in a pan a bring to the boil.
Remove from the heat and allow to cool.
Remove the vanilla pod and add the gin.
Soak the babas in the syrup until well saturated.
White Chocolate, Lemon and Elderflower Namelaka Rose
2 Leaves of Bronze Gelatine
370g Nevado White Chocolate
10g Glucose Syrup
90g Lemon Juice
20g Elderflower Cordial
400g Double Cream
Soak the gelatine in ice water until soft.

Combine the cream, glucose, lemon and elderflower in a small pan and bring to the boil.
Remove from the heat and add the softened gelatine. Whisk lightly to dissolve the gelatine.
Strain the mixture over the white chocolate and blend together using an immersion blender
Pour the mixture into silicone moulds and freeze until solid.
Demould and spray lightly with a velvet cocoa butter spray whilst frozen
Allow to defrost in the fridge before serving.
Strawberry Sorbet
Just follow our standard sorbet recipe in the video below, using Strawberry puree.