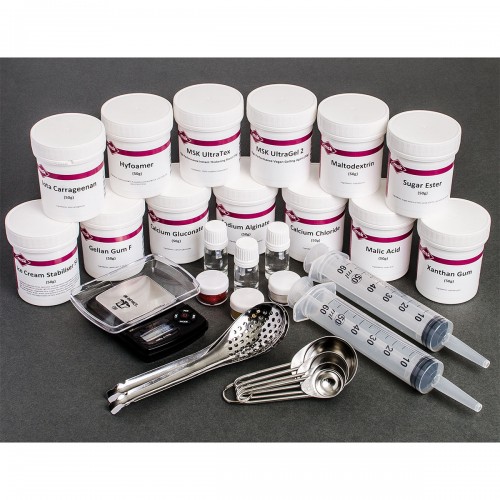 Molecular Starter Kit (with Caviar Box), 1 unit
Availability:

In Stock

(more info)
Product Code:

MSK-1752
Molecular Gastronomy Starter Kit
Our Extended Starter Kit, with the 100% Chef Caviar Box included.
This pack contains detailed and beautifully illustrated recipes, all the specialist ingredients you will need, plus micro-scales, dosing spoons, syringes and caviar spoons.
Transform and enhance your dishes with the following techniques:
Caviar Pearls and larger liquid centered bubbles (using spherification and reverse spherification methods)
Cold and hot jellies
Rapid setting and heat-resistant jellies
Hot and cold foams that will last for hours without losing body or texture
Eye-catching suspension fluids for pre-desserts, cocktails, etc...
A full set of instructions and recipes for the following dishes are included:
Beetroot Fluid Gel
Fizzy Gin & Tonic Bubbles
Cucumber & Mint Caviar Pearls
Cauliflower Panicottoa
Bloody Mary Jelly
Blood Orange Sauce
Toasted Marshmallows Ice Cream
Sparkling Glaze
Beetroot Foams/Macaroon
Plus: 50g each of UltraTex, Sugar Ester Emul T15, UltraGel 20, Iota Carrageenan, Sodium Alginate, Maltodextrin, Calcium Chloride, Malic Acid, Calcium Gluconate, Ice Cream Stabiliser, Gellan Gum F, UltraGel 50, Xanthan Gum, Hyfoamer.
Orders received after 4pm will normally be processed on the next working day.
Availability
All In Stock items are available for immediate dispatch (although quantities may be limited - please give us a ring if you're planning to order in volume).
Items marked Special Order are either out of stock or not routinely held in stock in our UK warehouse and will need to be ordered in. Please contact us for information on lead times.

Some products not currently in stock may state a standard lead time, e.g. 2-3 weeks for non-stocked 100% Chef products. In practice we are finding lead times for European imports can vary considerably at the moment, and it's always best to give us a ring to discuss.

UK Delivery
Delivery to most mainland UK addresses is £4.95 (+VAT), or free for MSK trade account holders.
Delivery to Highlands and Islands, Northern Ireland, Isle of Man, Channel Islands and other non-mainland destinations is £9.95 for all customers.
All orders are sent using tracked courier services and should arrive next day in most cases (two days for Highlands & Islands etc).
Delivery notifications and tracking information will normally be sent to the email address used to placed the order.
Please contact us if your order has not arrived after three days. All deliveries are geotagged and photographed which usually helps us locate your parcel.
Worldwide delivery
We deliver worldwide using DHL. Due to the complexities of shipping to international destinations we may have to charge additional fees where the delivery region or size/weight of the order necessitates it. We will always contact you to confirm these additional fees before we accept and process your order.
Please note the website does not calculate or charge local import taxes or customs duties for non-UK destinations. You are liable for payment of these if they arise.

Returns and damaged goods
For businesses, all claims must be notified by phone or email within 24 hours. Damaged or incorrect goods must be retained and made available for collection or inspection.
For individuals, you can cancel your order within 14 days of receipt as long as the item is unused and in a resalable condition. For food ingredients this means the seal must not be broken (unless damaged in transit). Please give us a ring or contact us by email to arrange a return.