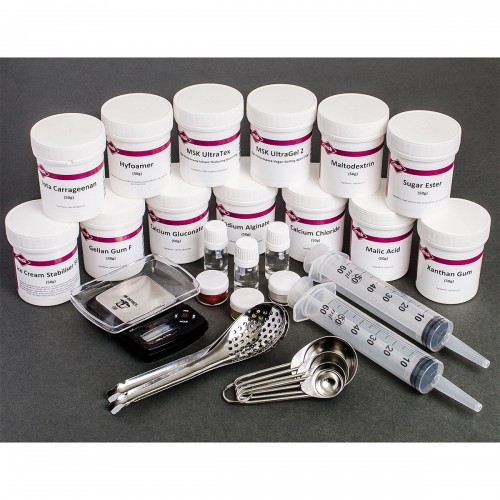 Molecular Starter Kit (with Foam Kit), 1 unit
Molecular Gastronomy Starter Kit
Our Extended Starter Kit, with the 100% Chef Foam Kit included.
This pack contains detailed and beautifully illustrated recipes, all the specialist ingredients you will need, plus micro-scales, dosing spoons, syringes and caviar spoons.
Transform and enhance your dishes with the following techniques:
• Caviar Pearls and larger liquid centered bubbles (using spherification and reverse spherification methods)
• Cold and hot jellies
• Rapid setting and heat-resistant jellies
• Hot and cold foams that will last for hours without losing body or texture
• Eye-catching suspension fluids for pre-desserts, cocktails, etc...
A full set of instructions and recipes for the following dishes are included:
• Beetroot Fluid Gel
• Fizzy Gin & Tonic Bubbles
• Cucumber & Mint Caviar Pearls
• Cauliflower Panicottoa
• Bloody Mary Jelly
• Blood Orange Sauce
• Toasted Marshmallows Ice Cream
• Sparkling Glaze
• Beetroot Foams/Macaroon
Plus: 50g each of UltraTex, Sugar Ester Emul T15, UltraGel 20, Iota Carrageenan, Sodium Alginate, Maltodextrin, Calcium Chloride, Malic Acid, Calcium Gluconate, Ice Cream Stabiliser, Gellan Gum F, UltraGel 50, Xanthan Gum, Hyfoamer.
Availability:

In Stock

(more info)
Product Code:

MSK-1751