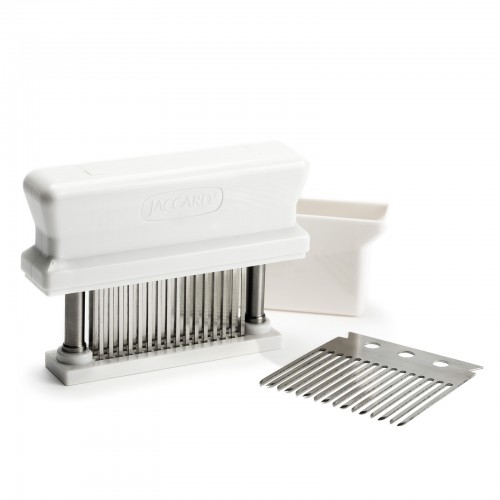 Hand Held Jaccard Super 3 Meat Tenderiser, 1 unit
ORIGINAL SUPER 3 MEAT TENDERISER 48 KNIFE SUPER

The original multi-blade, hand held super meat tenderiser that does much more than just tenderise. Ideal for beef, fish and poultry is the #1 choice of butchers, professional chefs and home cooking enthusiasts.

Razor sharp knife blades cut through connective tissues that make meat tough. Tiny heat channels are created without changing shape or appearance of meat, resulting in faster penetration of marinades/

Features:

Enhances flavour, texture and plate coverage

Ideal for enhancing any type of meats

Double edge sharpened blades

Reduces cooking time by up to 40%

Specs:

Made of white ABS plastic.

The tool measures:

WIDTH 4.5inches (11.42cm),

HEIGHT 6.2inches (16.53cm).
Availability:

In Stock

(more info)
Product Code:

MSK-6979