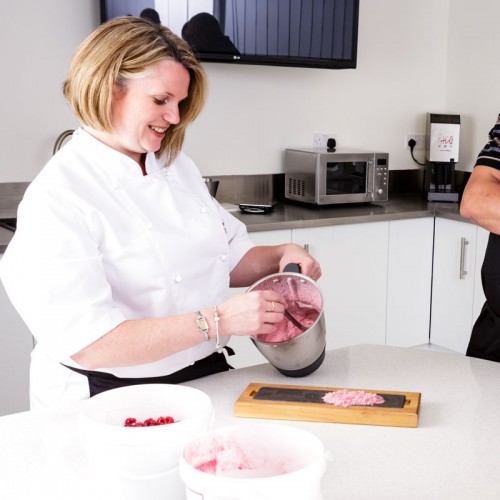 MSK Demonstration Day, 1 day
MSK Development Day
The day will feature practical demonstrations using the ingredients, tools and techniques of molecular gastronomy and modernist cuisine, covering both the fundamentals and the latest developments, along with an introduction to the safe use and handling of liquid nitrogen.
The contents can be adjusted to accommodate the range of experience and interests of those attending on the day, but will typically cover:
Gelling

: hot and cold jellies, hard and soft jellies

Thickening

: controlling viscosity

Whipping & Foaming

: create and stabilise foams of varying textures

Stabilisation & Emulsification

: silky smooth ice creams and sorbets

Spherification and Reverse Spherification

New approaches to

plant-based

and

allergen-free gastronomy

Many more new and practical techniques
Recipes and follow up technical support
There will be plenty of opportunities to ask questions and discuss techniques so that you can leave with some practical ideas which can be put into practice straight away, and we are always happy to take calls from our customers to offer advice and solve technical challenges as you continue to develop your skills and understanding.
The demo takes place in our purpose-built Demonstration Kitchen and will be presented by one of our development chefs, Vicky Endersen and Rupert Rowley. Numbers in this demonstration will be kept low in order to ensure that we can offer a safe environment for our guests. The demo starts at 10am and finishes around 4pm although the smaller numbers will allow for flexibility around the finish time and the topics covered. The kitchen will be open from 9:30 and refreshments will be available on arrival and throughout the day. Lunch will be provided – please advise if you have any specific dietary requests.
We are located just to the south of Sheffield, 10 mins from J29 on the M1 and 5 mins by taxi from Chesterfield railway station.
Book your place today!
For further information and details on our Demonstration Days or on Bespoke Training and Development Opportunities, please call us on 01246 412211
Availability:

In Stock

(more info)
Product Code:

MSK-3828