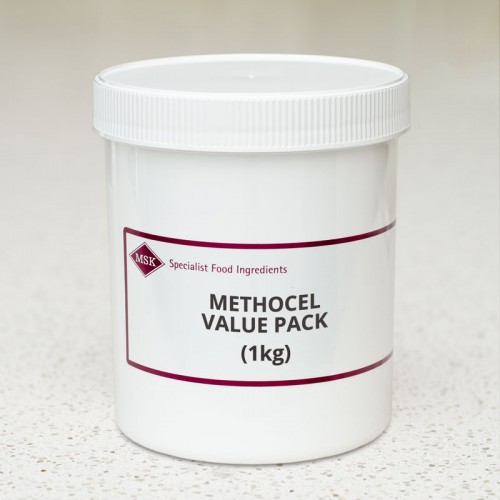 Methocel Value Pack, 1kg
Availability:

In Stock

(more info)
Product Code:

MSK-3855
Methocel (methylcellulose) is a chemical compound derived from cellulose. It is a hydrophilic (blends with water) white powder and dissolves in cold (but not hot) liquid, forming a clear viscous solution or gel.
Applications: Foam formation & stabilisation. Film formation. Hot gels which melt upon cooling and in the mouth.
Thickener and emulsifier - Methocel can be used as a thickener in sauces and dressings, and also as a thickener and stabiliser in ice cream where it helps prevent ice crystals from forming during freezing.
Hot gels – it has a unique ability to form hot gels when heated above 45ºC. As the solution is heated it will change to an opaque jellified state. When gradually cooled it will return to its original state. It is this function, which enables the production of hot jellies, noodles, deep fried mayonnaise and hot ice creams.
Film forming - capable of producing a solid, flexible and transparent film. Films may be produced by allowing the methocel solution to dry out, at low temperature (not above 60ºC) to prevent the solution from gelling. Films can be used as wrappers for petit fours or to add an extra dimension to dishes
Rate of Hydration: Methocel dissolves in cold water. It is not soluble in hot water. However, preparing a solution of Methocel with just cold water is not possible as the Methocel will not disperse and lumps may form. To overcome this problem, the Methocel should first be dispersed in hot water (above 70ºC). The amount of water should equal and replace approximately one third of the amount of liquid specified in the recipe. At this point, the balance of the liquid in the recipe should be added to the warm solution. This will bring the temperature of the solution down and the Methocel will dissolve.
Gel Strength: Varied
Colour: White Powder
Solubility: Cold
Ph Solubility: 3-11
Dosage Rates: 0.5% to 2.0%
Orders received after 4pm will normally be processed on the next working day.

Availability
All In Stock items are available for immediate dispatch (although quantities may be limited - please give us a ring if you're planning to order in volume).
Items marked Special Order are either out of stock or not routinely held in stock in our UK warehouse and will need to be ordered in. Please contact us for information on lead times.

Some products not currently in stock may state a standard lead time, e.g. 2-3 weeks for non-stocked 100% Chef products. In practice we are finding lead times for European imports can vary considerably at the moment, and it's always best to give us a ring to discuss.

UK Delivery
Delivery to most mainland UK addresses is £4.95 (+VAT), or free for MSK trade account holders.
Delivery to Highlands and Islands, Northern Ireland, Isle of Man, Channel Islands and other non-mainland destinations is £9.95 for all customers.
All orders are sent using tracked courier services and should arrive next day in most cases (two days for Highlands & Islands etc).
Delivery notifications and tracking information will normally be sent to the email address used to placed the order.
Please contact us if your order has not arrived after three days. All deliveries are geotagged and photographed which usually helps us locate your parcel.
Worldwide delivery
We deliver worldwide using DHL. Due to the complexities of shipping to international destinations we may have to charge additional fees where the delivery region or size/weight of the order necessitates it. We will always contact you to confirm these additional fees before we accept and process your order.
Please note the website does not calculate or charge local import taxes or customs duties for non-UK destinations. You are liable for payment of these if they arise.

Returns and damaged goods
For businesses, all claims must be notified by phone or email within 24 hours. Damaged or incorrect goods must be retained and made available for collection or inspection.
For individuals, you can cancel your order within 14 days of receipt as long as the item is unused and in a resalable condition. For food ingredients this means the seal must not be broken (unless damaged in transit). Please give us a ring or contact us by email to arrange a return.