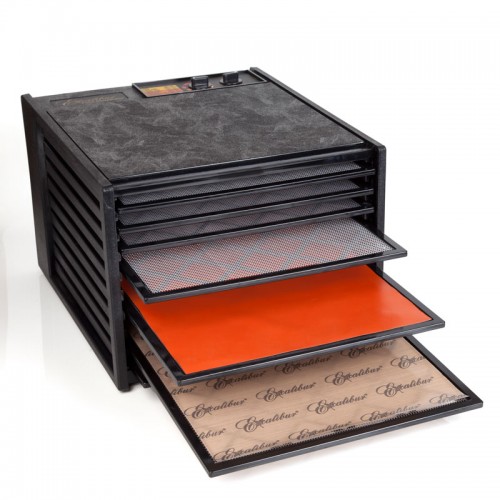 Excalibur 9 Tray Dehydrator, 1 unit
Horizontal airflow provides even drying, eliminating tray re-stacking. Drying is fast and heat is not lost as the dehydrator doesn't need to be taken apart to change the tray sequence. One or all trays may be removed making space for larger items such as whole fruit.
The Excalibur is easy to clean with spills falling on seamless tray bottoms. Flexible mesh tray inserts hold food above the tray frames. The adjustable thermostat (85-145˚F) allows perfect drying every time and the square tray design increases drying area over standard dehydrators with round trays. 9 polycarbonate drying trays come as standard and are dishwasher safe. Excalibur's own dehydration guide is included FREE with every excalibur dehydrator.
It comprises 9 trays of 15"x15", giving 14 ft2 of drying area. The unit is powered by a 600W motor and uses a 7" fan.
The 26 hr timer will automatically shut off the dehydrator for you when it reaches the time you set.
Availability:

In Stock

(more info)
Product Code:

MSK-2785