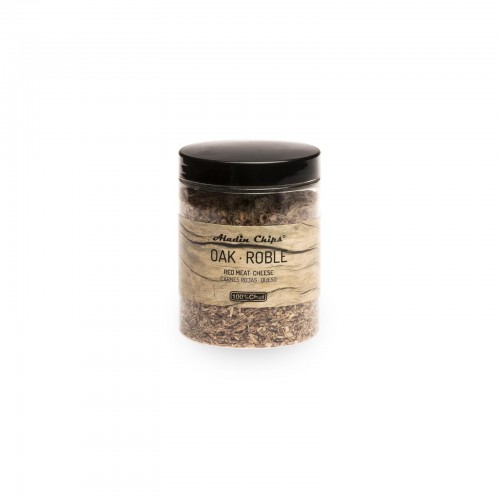 Oak Fine Wood Chips, 2x80g
Natural oak wood chips for food smoking. Aladín Chips Oak is the result of the best selection of timbers suitable for the different techniques of smoking, respecting all existing rules and regulations for food smoking. Aladín Chips Oak is the best choice for smoking red meat and cheese. Its use is also good with other types of food, depending on the flavour you like to obtain. The wood chips has a low amount of residual resin.

Aladín Chips Oak is a very good neutral base to be mixed with other flavors, essential oils, citrus peels, spices, herbs, etc.

Out tip: to obtain a slow burning in low temperature (less than 500°C approx.), the sawdust should be moistened slightly with water; it is important to control and regulate the quantity of air of the machine to prevent the formation of flame. We advise you to carefully read the smoking techniques section included in our downloadable catalogue at our official website.

Keep in cool and dry place, in a fully closed container. Keep away from ignition sources, as it is a flammable product.
Availability:

In Stock

(more info)
Product Code:

MSK-6982