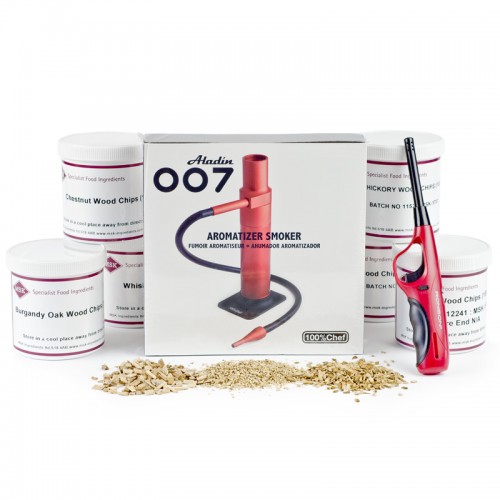 Cocktail Smoking Kit, 1 unit
Smoke infusion can give your cocktails a delicious twist!
The process of working smoke into a drink starts with a hand smoker. We've included the Aladin 007 Smoking Gun in our great value Cocktail Smoking Kit.
The Aladín 007 is the professional smoker preferred by bartenders and mixologists around the world and is especially recommended for use in cocktails and bar service.
You just insert a small amount of wood chips, put the hose where you want the smoke to go, switch it on and hold a lighter to the chips.
Our Kit also includes the Aladin Disc, which connects to the smoker and is placed over the desired container to easily and efficiently fill it with smoke.
Instant, thick smoke that alters the drink's aroma and as aroma can be responsible for as much as 90 percent of flavour, producing a smoky variation on a classic—like an Old Fashioned—can be amazing.
We've included a choice of 6 from our range of 10 delicately-flavoured wood chips so you can really experiement with flavour combinations.
Don't forget to choose your 6 flavours!
Availability:

In Stock

(more info)
Product Code:

MSK-4502